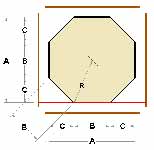 To layout the posts for a 10 foot octagon I first set up 1x4 batter boards at 12 feet. I started at the front at the elevation I wanted for the uphill post and used a level to get the grade all the way around. I then put string lines at 10 feet, measured corner to corner and adjusted the strings a necessary to make sure I had perfect square. Next I measured in from the corner of the string line the same on each corner and made a mark on the string with a permanent marker pen to get the center for each post base.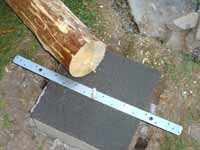 I then measured down from the string to get the height for the forms and then used a plumb bob from the mark on the string to get the center for "J" bolt. I made the post bases 12x12x8 inches, which works out with one 80lb sack of concrete. Before I set the post I put down an asphalt roofing shingle to keep the post from making direct contact with the concrete and bolted down an earthquake strap. I also put a generous coat of wood preservative on the end grain of the post. After standing up the post the earthquake straps are bent up and nailed into the posts.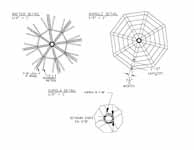 Download complete detailed Rustic Log Frame Gazebo Instruction Manual, Notes and Plans in pdf format for $20.00.

To Pay by PayPal or credit card Click "Buy Now"


You will be redirected to the plans in PDF format after payment.