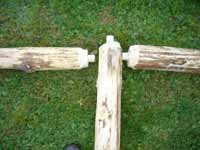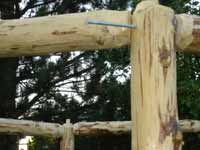 To connect the frame together I used mortis and tenon joints. On the top of each post I drilled two 1-1/2 inch holes at 45 degree angles to each other and cut and 1-1/2 inch round tenon on the top of the posts and on each end of the cross tie logs. The tenons were cut by measuring the center of the log and drawing a 1-1/2 inch circle and then setting a skill saw to the depth outside that and cutting around the log. The excess material was removed with a chisel and the tenon finished with a wood rasp.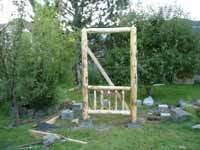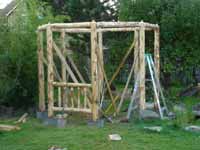 A 3/8 inch hole was pre-drilled the rest of the way through the post and an 8 inch spike was driven through the post and into the tenon on the cross ties. I built one section on the ground with a handrail and spiked it together before I stood it up. Once that was stood up and braced I worked my way around adding one cross tie and post at a time until I came back around the ocagon. On the rafters a 1-1/2 inch hole was drilled at a 6 - 12 rafter angle to fit on the tenon on the top of the post. Again an 8 inch spike is driven through the rafter and into the tenon on the post.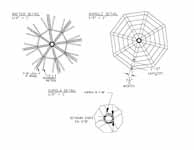 Download complete detailed Rustic Log Frame Gazebo Instruction Manual, Notes and Plans in pdf format for $20.00.

To Pay by PayPal or credit card Click "Buy Now"


You will be redirected to the plans in PDF format after payment.